How emergency telemedicine has helped with work life balance – a female perspective
The ability to receive trusted, reliable healthcare in a convenient and safe way has made telehealth a go-to option for many sick and vulnerable patients in recent years, and even more so as a response to the COVID-19 pandemic. While now common as a channel for primary and allied health clinicians to attend to patients, emergency telemedicine has also been available in Australia for some years.
Two FACEMs working at My Emergency Doctor share their stories on how telemedicine has allowed them to practice emergency medicine whilst pursing other life endeavours such as raising young children, moving overseas, and transitioning out of full-time shift work. The flexibility within emergency telemedicine allows these female emergency physicians to balance purpose with passion and invest deeply in areas of their life outside the emergency department.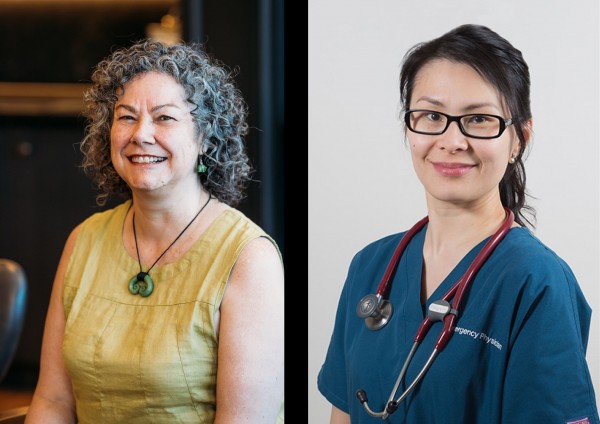 Dr Sue Ieraci (FACEM) and Dr Shera Leonny (FACEM)
The flexibility to practice whilst raising a family

Dr Shera Leonny has worked as an emergency physician for over five years but only started working in emergency telemedicine when she moved from Australia to Canada in 2017. Though her focus was to be a stay-at-home mother whilst overseas, she quickly realised how much she missed her role as a physician. "I found it harder than expected to be away from the hospital and helping patients," she said. "A friend suggested I try telehealth and put me in touch with My Emergency Doctor." The 24/7 nature of My Emergency Doctor allowed her the flexibility she needed to be with her children whilst maintaining a connection with emergency medicine. When she returned to Australia a couple of years later, Dr Leonny continued to work with My Emergency Doctor part-time and returned to the hospital part-time as well.
Recently, Dr Leonny gave birth to her third child and is currently on maternity leave from the hospital. After a few months completely off work, she decided to return to telemedicine and pick up some short shifts with My Emergency Doctor. As telemedicine rosters can be managed in two-hour blocks, Dr Leonny is able to work around her children's schedules and quite literally be there for her newborn's every waking moment. Another benefit of telemedicine is not needing to struggle with day care. "Day care isn't flexible for shift workers," she explained. "They don't open early enough for me to start my shift at the hospital, but I can instantly log on and start my telemedicine shift without any commute or worry about day care drop off."
Dr Leonny has found a balance of practising in-hospital and via telemedicine to be the right combination for her at this stage in her personal and professional life. She is also driven to continue working in telemedicine as she believes it will play a key role in providing emergency care in the future, especially for regional locations.
As My Emergency Doctor supports hospitals and healthcare facilities that otherwise would not have access to emergency medicine, telehealth makes it possible for regional patients to gain access to the same level of care afforded to metropolitan residents. "It's unfair that depending on your residential post code, your chances of surviving something like a heart attack decreases," said Dr Leonny. "We complement the care of an in-person doctor when resources aren't available for an onsite medical emergency practitioner."
This vision of My Emergency Doctor to transform emergency care in Australia by 'bringing the best possible care to patients wherever they are', coupled with the more flexible nature compared to in-hospital medicine, is what drives Dr Leonny to continue practicing with telemedicine.
The freedom and ability to truly work part-time
Dr Sue Ieraci practiced emergency medicine in hospitals for 35 years before transitioning to telemedicine. After spending so much time in the hospital environment, she found herself looking for a solution that better suited her goals and life stage. While still wanting to practice medicine, she found the long shift work and hospital processes to be a challenge.
Dr Ieraci initially gravitated towards My Emergency Doctor as it allowed her to support patients across the country and without some of the 'red tape'. From regional patients to nursing home residents, telemedicine is a way for patients to receive healthcare in a way that is compatible with their environment. "Telemedicine is all about access," she said. "There are a lot of different groups that it applies to, but it's about bringing a service to people that otherwise would have trouble accessing it." It also provides support and peace of mind to nurses in remote areas or that act as caregivers. The FACEMs at My Emergency Doctor can take on the responsibility of prescribing medications as well as advising on the best way forward for the patient such as x-rays, pathology referrals, or requesting the patient go and see their GP again. The My Emergency Doctor team can also upload information to My Health Record to ensure the patient can have continuity of care with their primary care provider.
Besides the nature of administering healthcare, telemedicine also provided the work/life balance for Dr Ieraci that she craved. The ability to leave behind the days of 10 hour shifts and work shorter blocks (e.g. two hours) based on preferred time of day is a huge advantage over working in hospital. Not to mention the time saved from commuting as well. "While it's possible to work part-time hours at a hospital, the shifts are the full length of time," said Dr Ieraci. "Being able to pick up a couple hours here and there instead of the intense ten-hour shifts means I can schedule other things into my day." As she's moved to a semi-retired lifestyle, Dr Ieraci is putting a greater emphasis on personal life priorities such as family, friends, mentoring other doctors, and her own wellbeing. My Emergency Doctor allowed her to create a new life balance as she enters this new stage in her personal and professional life.
The support for a successful career as a female FACEM
Female emergency physicians are a crucial part of the medical workforce; however, whether it's due to taking time off to have children, or other competing priorities and shifting life stages, a career purely inside a hospital emergency department isn't always conducive to other plans life might have.
Emergency telemedicine is a promising pathway for FACEMs needing to step outside the traditional hospital requirements whilst still wanting to continue in their calling as a medical professional.